Electric Ride on Car Land Rover Discovery, Pink
Electric Ride on Car Land Rover Discovery, Pink, Original Licensed, Battery Powered, LED lights, Opening doors and Hood, 2 x 35W Engine, 12 V Battery, 2.4 Ghz remote control, Soft EVA wheels, Suspension, Smooth start, USB / AUX input More
Licensed electric Ride on car Land Rover Discovery
The perfect electric toy car with a realistic look , opening doors and hood . When switched on on the on-board unit, the model imitates the start sound, the front LED lights come on.  Sound effects such as: horn, engine start, driving sound, songs, melodies with USB / AUX input are always available for fun. Volume of all sound effects can be controlled by mp3 player .
The car has a 2.4 GHz remote control of a new generation, illuminated start switch. The emergency brake on the remote control ensures full control of the car and switches off all functions at the touch of a button. The car has both rear-wheel drive. Electric parking brake . Imitation tachometer.
Two forward speeds

 - slow and fast, 1 reverse speed. Possibility to set the driving speed also on the remote control.

Switch of the headlights on the on-board unit

Soft Start / Smooth Acceleration  - When the accelerator pedal is pressed, the car starts to accelerate electronically smoothly to provide smooth acceleration thanks to the integrated accelerator.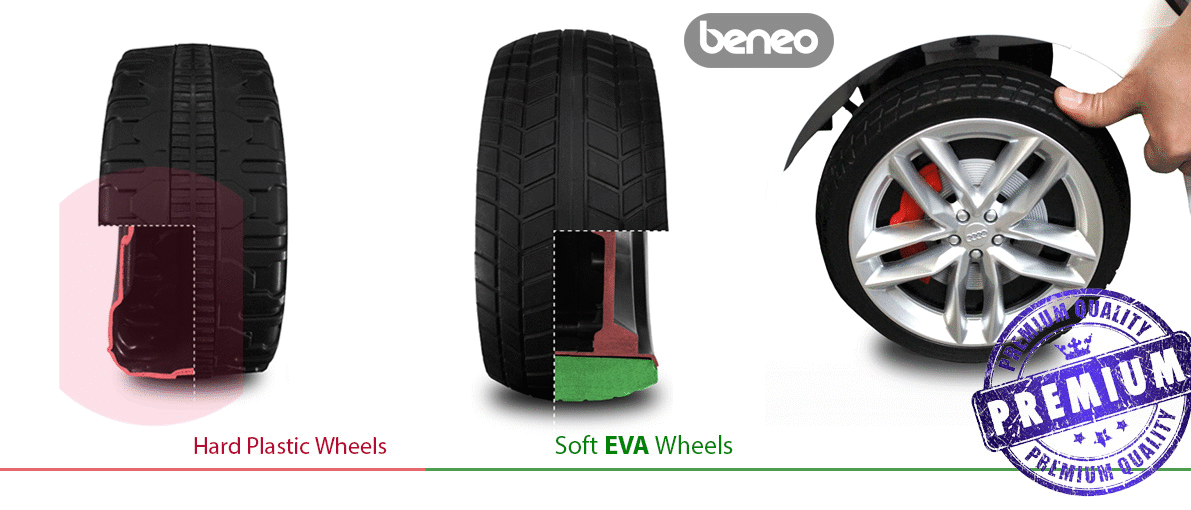 Soft EVA wheels with suspension axles ensure comfortable driving even on hard surfaces without shaking the car.

The seat belt is adjustable on the seat for greater safety, and the wide opening of the door makes it easy to get in and out of the car.
Technical specifications:
Licensed

Type of car: 

Single-seat

Drive: 

2x2

Engines: 

2 x 12 V / 35 W motor

Number of speeds: 

3 (2 forward and 1 reverse)

Speed: 3-6 km / h

Load capacity: max. up to 

30 kg

Battery: 

1x 12V / 4.5 Ah

Charging time: min. 6-8 hours

Smooth start

LED lights

Emergency brake

Seat belt: 2 - point belt

Suspension of rear wheels

Soft EVA wheels

Seat: 

Leather seat

Door: 

openable with lock

Openable hood

Lighting: 

headlights

Multimedia equipment: 

MP3, USB, SD card

 , steering wheel control

2,4Ghz Remote controller with speed select

Recommended age: 3-6 years

Dimensions: 102.5 x 69 x 55.4 cm
Articles
Sometimes customers call us because of a battery problem in their electric car. Especially in spring when its warmer outside and the kids can use again their favorite car. Finally you can pull the car out from the garage, or from the cellar and enjoy it, but the car is not starting. To save you time and prevent similar situations, we have written down some basic facts of how to care for the batteries. As some say, what you give, is what you get it - and it is also similar to battery care.